Call or email us. It's completely confidential.
Speak to a lawyer about your situation for free.
We give you advice and/or a lawyer referral.
Cook County Probate Attorneys
We are Illinois lawyers, who since 2001, have been offering legal guidance and attorney referrals. Call our office at 312-346-5320 or 800-517-1614 to speak with an attorney for FREE and get pointed in the right direction. Or you can fill out our contact form to tell us about your situation and we will contact you. We can't promise a result, but we do guarantee that we will be honest and treat you like a family member or friend.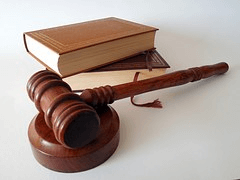 Probate is the legal process of dealing with a person's property, assets and debts after their death. An individual, usually a family member or close friend, will be the executor or administrator of the estate. This person, typically with the help of an attorney, is in charge of accounting for all assets, dealing with creditors, paying taxes and approved debts and eventually distributing the estate to the heirs.
We help surviving family members, especially those who are the executor or administrator of an estate, by recommending an Illinois probate attorney. It's safe to say that if you're dealing with the death of a loved one, it's a difficult time, and we understand that. The probate attorneys we recommend know that you are trusting them to get you through the probate process as quickly and painlessly as possible. They have handled hundreds of probate cases, are known for their customer service and have a track record of success in protecting the interests of the estate.
In Illinois, a person's will must be filed with the court, in the county where they were living when they passed away, no later than 30 days after their death. In Cook County, all probate matters are handled in Chicago at the Daley Center. If a person was a resident of Cook County when they passed away, their probate case will almost certainly be handled at the Daley Center. Most of the Chicago probate lawyers that we know have offices downtown to be close to the courthouse. We do know a few suburban lawyers who focus their practice on probate law and travel downtown when needed.
When a person dies without a will in Illinois, it's called dying "intestate." Illinois law essentially provides a formula for who inherits the property of someone who dies intestate. The assets and debts will still go through the courts before any distribution in most cases.
If there's anything we can answer for you, or if you have been named executor of an estate and need help finding the right Illinois probate attorney to guide you, please contact us at any time. The attorneys we know and recommend will talk to you for free.