Call or email us. It's completely confidential.
Speak to a lawyer about your situation for free.
We give you advice and/or a lawyer referral.
The Basics of Illinois Probate Law
We are Illinois lawyers, who since 2001, have been offering legal guidance and attorney referrals. Call our office at 312-346-5320 or 800-517-1614 to speak with an attorney for FREE and get pointed in the right direction. Or you can fill out our contact form to tell us about your situation and we will contact you. We can't promise a result, but we do guarantee that we will be honest and treat you like a family member or friend.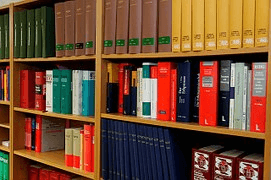 Probate is the legal process that takes place after someone dies, that includes: proving in court that the deceased person's will is valid, identifying the deceased person's property (the "estate"), having the property appraised, paying debts and taxes, and distributing the property as the will (or state law if there is no will) dictates. Simply put, you can't legally acquire property after someone dies without going to a probate court.
There are two types of probate estates: intestate and testate. An intestate estate is used when the decedent does not leave a valid will. When there is no will, state law dictates who is entitled to receive the decedent's assets and who the executor will be. Fights often ensue over the control and distribution of intestate estates.
A testate estate, on the other hand, is used when the decedent has left a valid will. The will directs who gets the decedent's assets and also names the executor. The executor is responsible for carrying out the terms of the will. Once the executor is determined, the court issues "letters of office" officially appointing an executor.
Within 30 days of the decedent's death, the final will must be filed in the county courthouse in the county where the deceased person last resided. If the deceased person owned property outside of Illinois, an additional filing ("ancillary filing") must be made in any state where the property is owned.
The probate process takes anywhere from 6 months to several years depending on the size of the estate. The will stays open for at least 6 months to allow creditors and any other interested parties to file claims against the estate's assets. In Illinois, probate may be avoided by the filing of a "small estate affidavit" if the total estate is valued at less than $100,000. However, if the total estate is valued at over $100,000, the will must be probated.
If you don't want your estate to go to probate you can create a trust which will cover most of your assets. In addition, bank accounts and most homes that are jointly held can avoid the probate process. There is no property to transfer in those cases because it is already owned by someone else.
People often grant powers of attorney over certain affairs during their lifetime in order to protect their interests. Any power of attorney you may have granted during your lifetime ends the moment you die. Having a valid will is similar to granting certain powers of attorney during your lifetime because both protect your interests – one while you are alive, the other after you die.
If you have any questions about the probate process in Illinois, or if you would like us to recommend a lawyer to help you create a valid will, please do not hesitate to contact us. We are attorneys in Illinois who will talk to you for free, answer questions and if needed provide a referral to an independent probate law firm that best fits your needs. All calls are free and confidential.