Call or email us. It's completely confidential.
Speak to a lawyer about your situation for free.
We give you advice and/or a lawyer referral.
Getting Your Illinois Driver's License Reinstated if You Live Out of State
We are Illinois lawyers, who since 2001, have been offering legal guidance and attorney referrals. Call our office at 312-346-5320 or 800-517-1614 to speak with an attorney for FREE and get pointed in the right direction. Or you can fill out our contact form to tell us about your situation and we will contact you. We can't promise a result, but we do guarantee that we will be honest and treat you like a family member or friend.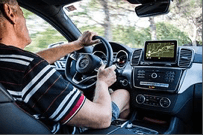 It used to be that if you had a traffic problem in one state and then moved elsewhere you had no worries. We often get contacted by people that used to live in Illinois and in some cases haven't been back here for many years. Over the last couple of years, the various state agencies that provide driver's licenses have been sharing information with each other. The result, if you are suspended from driving in Illinois, you are suspended everywhere else in the country.
Typically what we see is someone who used to live in Illinois, went to renew their license elsewhere and got denied even though they never had a problem before. When it comes to getting your license back as an out-of-stater, you face more obstacles than a person from Illinois when you attempt to have your driver's license reinstated.
In order to tackle the obstacles that lay ahead of you, your first step should be to get a lawyer that focuses in Illinois Driver's License Reinstatement. This lawyer will be able to help you from step one through finally regaining your driver's license. Keep in mind though that if you have received four DUI's, and the fourth arrest was recorded on or after January 1, 1999, in any state, and resulted in a subsequent conviction then you are unable to apply for a driver's permit or license.
The first obstacle that out-of-staters face is to obtain a letter of clearance from the Secretary of State of Illinois. Your lawyer can quickly and efficiently draft the request for this letter. Your lawyer will also help you to determine whether you need a formal or an informal hearing in order to proceed with the reinstatement process.
Second, you may have to obtain an out-of-state packet in order to apply for your license. If you live within thirty miles of the Illinois border the application process must occur at an Illinois Secretary of State Facility. However, if you live outside of that boundary your lawyer will order an out-of-state packet that will enable you to begin the process outside of the state. In other words, you don't have to fly back to Illinois for a hearing, but you do have to deal with your problem in Illinois. Filling out this packet correctly is extremely important and really where your lawyer ads value.
Finally, your lawyer will be very helpful in drafting the appropriate paperwork and affidavits that need to be filed in order to have your driver's license reinstated. This is a really involved process that requires the care and skill of an experienced attorney. The Office of the Secretary of State is very demanding about the formatting and submission of these papers. Consequently, it is in your best interest to file the papers once, correctly rather than entering into a paper cycle, which could take up your valuable time as well as keep you without your license for even longer.
There are four main hearing locations in Illinois for the Secretary of State, Joliet, Chicago, Mt. Vernon and Springfield. It doesn't matter where you were in Illinois when you got suspended, a lawyer in any of these areas can help you. In other words, if you lost your license for a DUI in Chicago and now live in Georgia, you can hire a Joliet drivers license reinstatement attorney or one in Wheaton, Chicago, Springfield, Naperville or anywhere else in the state.
Does this sound confusing? It can be. If you have questions, please contact us for guidance. We will be happy to answer any questions you have and if possible, refer you to a lawyer in Illinois who can help you resolve your problem with the Illinois Secretary of State.