Call or email us. It's completely confidential.
Speak to a lawyer about your situation for free.
We give you advice and/or a lawyer referral.
Bicycle Accidents and Illinois Personal Injury Law
We are experienced Illinois attorneys who since 2001 have helped people find the best Illinois personal injury lawyer for their case.  You can call our office at 312-346-5320 or 800-517-1614 to speak with a lawyer for FREE or you can fill out our contact form  and we will contact you.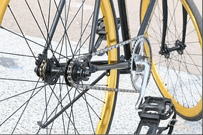 A bike is no match for a car. Thousands of bicycle accidents are reported each year in Illinois. Many are fatal. Distracted driving, congested roadways and a failure to use caution are major causes. Whether an accident ends up as a lawsuit depends on who was at fault and how serious the injuries were.
Drivers are supposed to yield to cyclists in situations where they would be required to yield to another vehicle. A car driver should not turn left in front of an oncoming cyclist without a safe distance, just as they would not turn left directly into the path of an oncoming car or truck. Drivers also have a duty to look out for cyclists and not pass too closely. In Illinois, a driver shouldn't pass a bike if there will be less than three feet between the bike and the car. A bike rider has to follow rules as well. They must obey the rules of the road just like a car, and they must drive in the same direction as traffic.
In an accident where a car hits a cyclist or a cyclist slams into a car, or where one or the other causes a collision or fall, fault likely will be a big issue. Having a copy of the police report is important. Witnesses are helpful, as well. But the first thing you should worry about is getting medical attention if you are injured – always make this a priority.
Minor accidents might end with either the driver or the cyclist getting a ticket, and that's it. If the injuries are serious and/or permanent, the injured party might file a claim with the other party's insurance company or decide to file a lawsuit against the other party. In a fatal accident, the family of the deceased can file a wrongful death lawsuit against the responsible party.
Serious injury is not a requirement for filing a lawsuit but realistically these are the cases worth pursuing. If you have only a minor injury, an attorney may not want your case because there's not much to sue for. Injury lawsuits ask for damages from the at-fault party. Damages include medical expenses, lost wages, pain and suffering and disfigurement. If you have a few scrapes, your medical bills are probably low and you probably haven't missed any days of work.
If you are in a bike accident with a car or truck, you will probably end up dealing with the other person's insurance company. A word of caution: Consider having an attorney deal with the insurance company. If you are seriously injured, your future might depend on being compensated for your loss. A serious injury can affect your ability to earn a living, pursue your interests, enjoy time with your family, etc. The insurance company has a lot of power if you let them. They might even try to convince you that the accident was your fault when it wasn't. An experienced and aggressive attorney can negotiate on your behalf and file a lawsuit if necessary. You generally have two years from the date of an accident to file a lawsuit.
If you need to talk to an attorney about what happened and what your options are, please give us a call. We will speak with you for free and give you our honest opinion about whether you need an attorney and what you should do next. If need a referral, we will give you the name of an Illinois attorney who has the right experience to represent you. Call us at (312) 346-5320 or (800) 517-1614, or contact us online.