Call or email us. It's completely confidential.
Speak to a lawyer about your situation for free.
We give you advice and/or a lawyer referral.
Ten Things You Should Know About Illinois Workers' Compensation Law
We are Illinois lawyers, who since 2001, have been offering legal guidance and attorney referrals to the best workers compensation attorneys in Illinois. Call our office at 312-346-5320 or 800-517-1614 to speak with an attorney for FREE and get pointed in the right direction. Or you can fill out our contact form to tell us about your case and we will contact you. All inquiries are free and confidential.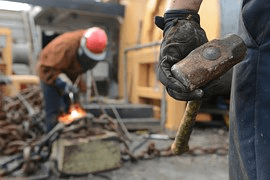 As part of our free guidance, we offer many tips. Below are ten things you should know about Illinois work comp laws.
Don't assume you can't file a claim in Illinois. If you were injured in Illinois, you can certainly file a claim here. But Illinois also takes claims of workers who were injured out of state while working for an Illinois company. Even if your job has a small connection to this state, you might want to file your claim here.
Almost every worker in Illinois is covered. Don't let your employer tell you that you don't qualify or that there is some other reason why you can't file a claim. If they insist, get the opinion of an experienced attorney.
Fault doesn't matter. If the injury happened because you weren't paying attention, you can still file a claim for benefits. The same is true for the employer – fault doesn't matter. So you can't sue for a work injury even if your employer was negligent.
You have 45 days to notify your employer. Illinois allows an injured worker 45 days to notify their employer. If you miss this deadline, the insurance company might try to deny your claim and prevent you from getting benefits.
Benefits include: 100% coverage of related medical bills, payment for a portion of lost wages, and payment for the permanency of your injury.
The insurance company is not on your side. They might be really nice to you on the phone, asking about your injury or your family. But their goal is to pay out as little as possible, so if they can use something you say to deny your claim, they'll do it.
You have three years to file a claim, but it might be more. This is the deadline. It's technically three years from the date of your injury, or two years from the date of the last workers' comp benefits you received.
You can get benefits despite a pre-existing injury. If you have an old back injury from a car accident, and then you hurt your back at work, you should still get benefits. If work aggravates an old injury, it still falls under workers' comp.
Attorney fees are limited to 20%. In most areas of injury law, fees are around 1/3 of what you recover. Illinois law limits workers' compensation attorney fees to 20%, and an attorney should only be earning a fee for getting you a settlement or recovering disputed benefits, not for simply filing your claim.
Follow your doctor's orders. If you don't, it could seriously hurt your claim. Insurance companies can follow you and do surveillance to see if you're really as hurt as you say you are.
If you have further questions about Illinois workers' compensation laws or benefits, please give us a call. You can reach us at (800) 517-1614 or (312) 346- 5320, or fill out our form online. We will answer your questions and give you the name of an experienced Illinois workers' comp attorney if you would like a referral.