Call or email us. It's completely confidential.
Speak to a lawyer about your situation for free.
We give you advice and/or a lawyer referral.
We are Illinois lawyers, who since 2001, have been offering legal guidance and attorney referrals to the best workers compensation attorneys in Illinois. Call our office at 312-346-5320 or 800-517-1614 to speak with an attorney for FREE and get pointed in the right direction. Or you can fill out our contact form to tell us about your case and we will contact you. All inquiries are free and confidential.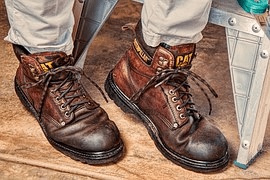 The Lisfranc is a joint in the foot that exists between the toes and the ankle; specifically, it is the connection between the metatarsal (toe) bones and the tarsal (foot arch) bones. The Lisfranc is important to insure proper strength and balance in the foot. An injury to the Lisfranc can be a painful event with long-term complications. If you receive a Lisfranc injury at work or through the fault of another individual, you can bring a workers' compensation or personal injury claim against that business or person to receive compensation for your injury.
Traditionally, many Lisfranc injuries occurred during horseback riding when the rider fell from the horse but his foot remained twisted in the saddle. Today, other activities more commonly cause a Lisfranc injury. Sports activity like football or running, car accidents, twisting falls, stepping into a hole, objects being dropped on or hitting the foot, industrial work accidents and other physical work activity can lead to Lisfrac injuries.
There most common types of Lisfranc injuries are sprains and fractures, although the bones can become dislocated as well. Symptoms of a Lisfranc injury include overall swelling and bruising of the foot – in particular, bruising to the arch, pain in the middle of the foot and inability to bear weight on the foot.
If you think you may have suffered a Lisfranc injury, it is important to speak to an orthopedic doctor. Lisfranc injuries are often overlooked or misdiagnosed, so a doctor who has specialized experience in foot injuries is the right person to determine treatment. Depending on the severity of your injury, treatment can range from staying off of the affected foot, to medications and surgery. Even with proper treatment, ongoing complications like arthrosis or chronic pain may develop. Left untreated, this injury can develop into a life-altering problem.
Just like a medical specialist is the best person to treat your Lisfranc injury, a lawyer who has experience with Lisfranc claims will give you the best chance of winning your case. Your lawyer needs to understand all of the complicated medical issues in the case and must also know how to best communicate this information to a judge or jury. It's not that lawyers without experience can't get a good result, but rather we strongly feel that an attorney that has a strong track record gives you the best chance of success.
We have experience working with Illinois attorneys who have successfully handled Lisfranc cases. If you need assistance finding one of these lawyers, please contact us and we will put you in touch. In addition, most of the lawyers we work with in this area work on contingency basis. This means you won't have to pay your lawyer unless he or she wins your case or obtains a financial settlement for you.