Call or email us. It's completely confidential.
Speak to a lawyer about your situation for free.
We give you advice and/or a lawyer referral.
Workers' Compensation for Traveling Employees
We are Illinois lawyers, who since 2001, have been offering legal guidance and attorney referrals to the best workers compensation attorneys in Illinois. Call our office at 312-346-5320 or 800-517-1614 to speak with an attorney for FREE and get pointed in the right direction. Or you can fill out our contact form to tell us about your case and we will contact you. All inquiries are free and confidential.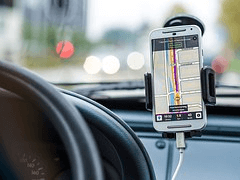 If you get hurt while traveling for the benefit of your Illinois employer, you can generally be compensated for your injuries. Traveling employees may be eligible for workers' compensation for work-related injuries as long as it's reasonably foreseeable that they would be taking part in the activity that injured them. While ordinary commuting to and from work, particularly driving, does not count as traveling, flying to another city on business or driving to a meeting with a client is traveling.
Almost any injury that occurs during your business trip or client meeting would be covered by workers' compensation because it took place while you were doing your job. So, for example, if you slip and fall in your shower at home before work, it is not compensable. If you're in Philadelphia for business reasons and you slip and fall in the hotel shower there, injuring yourself, it would be compensable.
You may even be covered under workers' compensation for injuries that take place when you're on a business trip doing non-business activities. In one case, an employee was in Hawaii on business, and during some free time he went biking. He was injured while riding the bicycle, and it was compensable because even though it wasn't directly related to his job, it was still reasonably foreseeable that the employee would have some down time when work was over and that he would do something fun. After all, he was only in Hawaii to begin with for the benefit of his employer.
On the other hand, if you were on a business trip and you injured yourself after getting extremely drunk, workers' compensation would probably not cover that. It is certainly foreseeable that you would go out to dinner and possibly have a drink, but courts have held that it's not foreseeable to get overly intoxicated.
Of course, employees are covered by workers compensation during normal work hours, and depending on the particular job, they may be covered for a reasonable time before and after work, although this is not often the case. It is important to note that if you are injured, whether at work or while traveling for business purposes, you must give notice to your employer within 45 days of the injury, either written or oral. There is also a statute of limitations, meaning you must file your workers' compensation claim within a certain time period of your injury or else you will lose your right to recover.
If you are an employee for a company not based in Illinois, but get hurt on business in Illinois then you are also entitled to Illinois workers' compensation benefits. The law is crystal clear; if you are hurt while working in Illinois then you can pursue benefits under our laws. You can also get benefits if you are hurt while traveling in another state, but were originally hired in Illinois or your principal place of business is Illinois.
Does this make sense? If it doesn't you are welcome to contact us with any questions that you have or for a referral to an attorney that is the right fit for your unique situation. We will recommend whoever we think gives you the best chance for success.
Since 2001 illinoislawyers.com has been the leading resource for people who are looking for Illinois work injury attorneys or other types of Illinois attorneys. From Chicago to Carbondale and everywhere in between see for yourself why access to our site is like having an attorney in the family.