Call or email us. It's completely confidential.
Speak to a lawyer about your situation for free.
We give you advice and/or a lawyer referral.
Foot Drop and Illinois Medical Malpractice Cases
We are Illinois lawyers, who since 2001, have been offering legal guidance and attorney referrals to the top Illinois medical malpractice lawyers. Call our office at 312-346-5320 or 800-517-1614 to speak with an attorney for FREE and get pointed in the right direction. Or you can fill out our contact form to tell us about your situation and we will contact you. It is always free and confidential to contact us.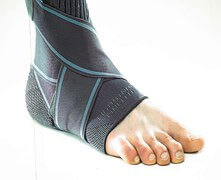 Foot drop is a condition that affects a person's ability to lift their foot at the ankle. The front part of the foot can't be lifted and may drag on the ground when person walks. A person with foot drop, also called drop foot, might compensate by lifting their knee high when walking to prevent dragging.
Foot drop can be caused by nerve damage, or a secondary condition such as a nerve, muscle or brain disorder. Nerve damage can be a complication of surgery. It can be damaged accidentally by the surgeon or be affected by too much direct pressure if a patient's position isn't correct during an operation. If you've recently had surgery and are experiencing tingling, numbness or paralysis in your foot, combined with an inability to walk correctly, it might be foot drop. Foot drop can often be diagnosed by observing how someone walks, but your doctor might order testing as well.
Foot drop can be temporary or permanent. Treatment of the underlying neurological disorder is often the goal, but therapy, nerve stimulation and surgery can be recommended, as well, especially where the case is nerve injury. Some people wear a brace to hold their foot in the right position.
If foot drop was caused by the negligence of a doctor or other healthcare provider, you may have a case for medical malpractice. Misdiagnosis, delay in treatment or injury during surgery can all indicate medical malpractice. Talking to an experienced medical malpractice attorney is the best way to know if your foot drop was the result of medical malpractice. Your attorney should consult with a medical expert to get a better idea of what your doctor should have done, if anything, to prevent or treat your condition. Time is of the essence. If you wait to long your case will be forever barred.
In Illinois, that statute of limitations for filing a medical malpractice lawsuit is usually two years. This means that you have two years from the date you knew, or should have known, of the malpractice or injury. This deadline can come up quickly, and in some cases the deadline is shorter, so don't wait long to get legal advice. Medical malpractice attorneys charge on a contingency basis, which means that you don't pay a fee unless your case is successful. If you win at trial or in settlement, your attorney is paid a portion of what you recover. Initial consultations are free.
When looking for an Illinois medical malpractice attorney, the main things to consider are experience, resources, past success and customer service. We only recommend attorneys who have high marks in all these areas. If you need our help finding someone to represent you – or if you simply have a few questions about whether you should pursue a lawsuit for your situation – then feel free to get in touch with us. You can call us at (312) 346-5320 or (800) 517-1614, or contact us online. Our service is free and confidential.