Call or email us. It's completely confidential.
Speak to a lawyer about your situation for free.
We give you advice and/or a lawyer referral.
Legal Malpractice and the Statute of Limitations
We are Illinois lawyers who can help you find an attorney willing to sue another attorney. Call our office at 312-346-5320 or 800-517-1614 to speak with an attorney for FREE and get pointed in the right direction. Or fill out our contact form to tell us about your situation and we will contact you. All inquiries are free and confidential.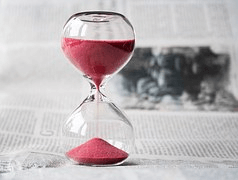 If you believe that your attorney committed malpractice, you should seek the advice of a malpractice attorney as soon as possible before the statute of limitations expires. The statute of limitations is the time period you have to file a claim in court before your right to file that claim is forever barred.
What is the statute of limitations for a legal malpractice claim?
In Illinois, the statute of limitations for legal malpractice claims is two (2) years from the date you discover or should have discovered the malpractice, but in no event more than six (6) years from the date of the actual malpractice. So, if you don't file your claim in court within the appropriate time period, you will never be able to do so after that.
Example – Your personal injury case was dismissed eight (8) years ago because your attorney failed to file a motion on time. Your attorney's failure is malpractice. However, even if your legal malpractice case would have been successful, the time limit to file has passed and you can never file the case against your attorney even if you just found out about it.
Is it that simple?
In many instances, it is not necessarily as straightforward as it may appear because the other side can argue about when you discovered or should have discovered the malpractice and it is up to you, the plaintiff, to have taken reasonable measures to discover the malpractice.
Ask yourself and tell your malpractice attorney during the consultation: What happened? How did you discover the malpractice? What was the timeline of events?
Although you have up to six years to sue, that's only if you didn't discover the negligence on time. If you knew the lawyer screwed up three years ago, but didn't pursue the case it hasn't been six years you are out of luck. Our advice is that as soon as you know a mistake has been made you need to look in to your options.
Are there exceptions?
Yes. In situations where the plaintiff is disabled at the time of the malpractice, the plaintiff then has two years from the date his disability is removed to file his legal malpractice claim.
"Disabled" means in a coma or determined by a court to be insane or otherwise lacking the capacity to discover the malpractice. So, for example, if a plaintiff is in a coma when the legal malpractice occurred and then comes out of the coma years later, he has two years from the date he comes out of the coma to file his claim.
Also, the statute of limitations can be extended if case is still going on. In other words, two years ago you knew your attorney committed an error, but it's only malpractice if it leads to irreparable harm. So, you might have to see how the case turns out before filing your legal malpractice claim. That said be very careful relying on that as it's not a guarantee.
In general these exceptions are very rare.
Now what?
Even if you believe the time limit has run out, talk to an attorney. A consultation is free and the legal malpractice attorneys we recommend work on a contingency basis. So, it will cost you nothing to find out if you may still have a valid legal malpractice claim.
If you have questions about suing a lawyer in Illinois please contact us at any time. Our service is free and confidential. We will do whatever we can to help you.