Call or email us. It's completely confidential.
Speak to a lawyer about your situation for free.
We give you advice and/or a lawyer referral.
What Should I Know About Hiring an Illinois Nursing Home Abuse Lawyer?
We are Illinois lawyers, who since 2001, have been offering legal guidance and attorney referrals to help people find the best nursing home injury lawyer for their case. Call our office at 312-346-5320 or 800-517-1614 to speak with an attorney for FREE and get pointed in the right direction. Or fill out our contact form to tell us about your situation and we will contact you.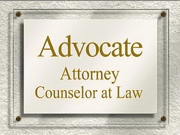 Discovering that a loved one may have been the victim of nursing home malpractice is distressing. Every case is different but in order to find out exactly what happened and see that justice is served, you should consult with an experienced nursing home abuse attorney as soon as possible. Here is what you need to know about hiring an attorney.
Finding the right attorney and firm:
It is important to find an attorney whose main practice area is nursing home abuse law and who has a track record for dealing with cases similar to yours. Since the area of nursing home abuse law can be complex, your attorney's main practice area should be nursing home abuse and he or she should have at least ten years of experience.
Your attorney should also have handled cases similar to yours in the past. Past cases don't necessarily have to have had the same exact facts as yours but, for example, if your loved suffered from bed sores, your attorney should have be familiar with handling cases that involve bed sores.
Also, it helps if your attorney is familiar with the nursing home where the malpractice occurred. At the very least, your attorney should be able to get information about past cases against them.
Note that there are many medical malpractice attorneys in Illinois who just dabble in nursing home cases. You can do better than that by hiring a firm that has real focus on elder care abuses.
Setting expectations:
It is important to note that nursing home abuse cases can take years to resolve. Still, your attorney should keep the lines of communication open and inform you of all significant developments. Asking for monthly or bi-monthly updates even if there have been no developments is not unreasonable.
Also, keep in mind that oftentimes you will meet with a partner of the firm at your consultation but an associate will be the one who actually handles your case. Make it clear that you don't want anyone handling your case who has little to no experience in nursing home abuse cases. You are the client and you can insist that only the partner and a senior associate handle your matter, especially depositions, settlement discussions and trial.
Fees and costs:
Nursing home abuse lawyers work on a contingency basis. This means that you do not have to pay anything unless you win. If you get a settlement or jury award, your attorney is paid from that amount – usually 1/3 of the recovery amount. If you lose, your attorney recovers nothing and that is written off to the cost of doing business in this type of law.
You should also not be paying for any court costs or other fees and expenses. Make sure your attorney is part of a financially stable firm that has the ability to advance costs during the litigation.
What you need to do:
Be prepared when you meet with your attorney. Bring copies of all medical records, names and contact information of any and all witnesses, if you have, and write down everything you remember regarding what you witnessed. Also, let your attorney know what you ultimately want, what your goals are so that you can both come up with a plan that will hopefully meet those goals.
Now what?
Contact us. We are free and we are confidential. We can help you find a nursing home abuse attorney in your area who could be the right fit for your case.